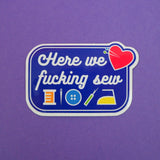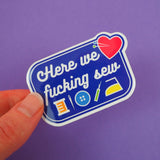 Here We Fucking Sew Vinyl Sticker
£1.25
Here we, here we, here we fucking sew!
If you have ever been clubbing in Glasgow, or even just taken a wander down Sauchiehall Street on a Saturday night, you are probably aware of the origin of this iconic Scottish chant.
We imagine that this variation on the original will appeal to a rather more sedate customer - one far more at home with pattern pieces and seam rippers than Blue WKD and cheesy chips. 
Either way, this sticker will make an excellent adornment to any sewing machine, project book or bottle of Buckfast.
These stickers are made of glossy, coated vinyl custom cut around the design: it's scratch and weather proof, and printed in long lasting no-fade colours.
Measurements: 6.2 cm x 4 cm
Sticker Material: Coated Vinyl (high quality, UV stable, weather and scratch proof)
Frequently bought with: I Have No Idea How To Wash This Clothing Label
Shipping: 1-5 days to UK, 2-3 weeks to Rest of World (from date of shipping) - see the FAQ for more information.